RUKRA Elevator Phone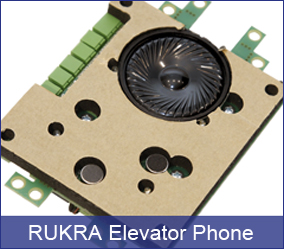 The RUKRA Elevator Phone is an Elevator Emergency Phone that without power to 5 systems on one PSTN, GSM or VOIP phone line is working properly and reliably. 
New is the function with timeregistration to the Webbased callcenter, Engineer arrived / Engineer has left the Elevator.
With the audio test, alarm button test and no use of batteries this Elevator Telephone is qualitied by our customers under the higher quality Elevator Phones. 
With a thickness of 22 mm the RUKRA Elevator Phone is very compact and easy to mount. 
We supply the Elevator Phone Plug & Play to your specifications like your emergency numbers, delay times etc.
RUKRA Accessoires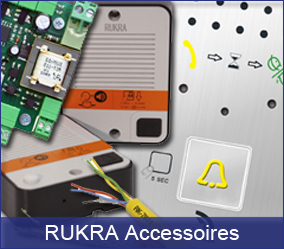 With the accessories the RUKRA Elevator Phone can be extended with wall panels, alarm buttons above and below the cabin, machine room intercom, fireman intercom etc. etc... 
There is also an elevator monitoring-module available.
The RUKRA Elevator Phone can count the starts and will test the elevator if it is up and running.
This information is also visible in  the Webbased Callcenter.
RUKRA Webbased Callcenter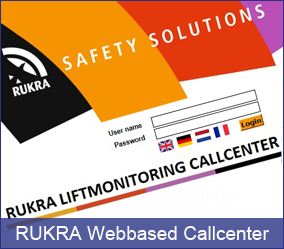 With the RUKRA Web Based Call Center you can view the status of your elevator phones 24/7 online live. 
Every periodic testcall is visible and if it will not be there in the estimated  time there is a red cross and you get an email. you also can immediately see where the emergency call is coming from and you can see the number of starts of the elevator. 
The alarm calls can be recorded and listened again. 
The Call Center is available for you and your customers where you decide who is allowed to see.